LACE DOILIES
I saw this cute how to on
scoutiegirl
involving both fabric manipulation and my current favourite item lace doilies. The doilies were soaked in a cornstarch and water solution then hung over an upsidedown glass to dry. It would be interesting to see if this effect is permanent and maybe see the results with using PVA instead of cornstarch, as advised in project 6.
ANDREA SHEAR
I'm still struggling to find the inspiration to do my sketchbook, the main part of this struggle is due to my lack of confidence in my drawing ability. I find it really inspirational to keep a collection of images I like from other artists. Andrea Shear is one of those artists that paints really simple but beautiful watercolours. She almost makes it look easy, but I'm aware now from experience that it's far from easy!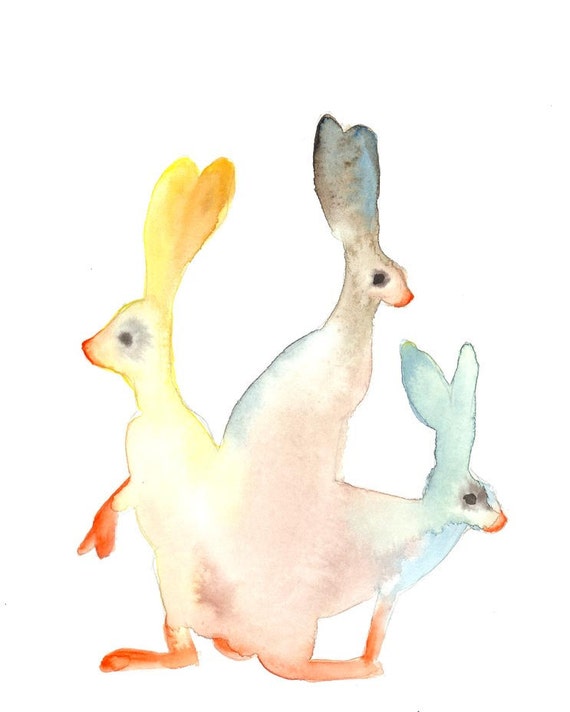 FABRIC MANIPULATION
Since I have moved on to assignment 3, I have been noticing fabric manipulation everywhere. A recent fashion show on the
craftzine blog
had two great examples of this within dress designs. The first image (by designer Lucy Faulke) is using pleats and the second (by designer Heather Orr) is using some kind of knitted tubes to create a 3-D effect.
DOODLE WEBSITES
I recently found
the sketchbook challenge blog
, which is full of useful information and inspirational sketches. They recently had a post about great
doodle websites
, which had some good links. As with most things on the Internet, once you follow a link, you then get drawn into following more links. From the original post I found a great site called
Doodlers Anonymous
and somehow found
Michael Nobbs
website, which is full of really inspiring information.
EASY SCREEN PRINT
I've been meaning to buy some proper screen printing equipment at ages. But I saw a great idea for screen printing the other day from
Skinny Laminx
, where she simply used an embroidery hoop, some net, and a credit card as a squeegee. I think I sometimes get too carried away with the excitement of buying new equipment, rather than concentrating on the actual process.